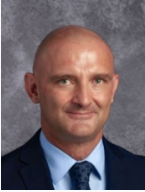 A Message from our Principal
I am very honored and blessed to serve as principal at St. Michael Catholic School. The St. Michael Catholic School Community is grounded in faith and is committed to the spiritual and academic development of every student. Our school has been serving our community since 1999 and our mission has remained constant. My wife, two children and I are so blessed to be part of the St. Michael Catholic School community and our daughter and son are currently enrolled in our wonderful school.
The mission of St. Michael Catholic School is to educate and guide students by providing academic excellence, spiritual development and strong Catholic values. Our school maintains a safe, nurturing environment that inspires a genuine love for learning and encourages a lifelong quest for knowledge. Our students have the opportunity to grow in our Catholic faith through prayer, adoration, daily religion classes, sacramental preparation and by attending weekly Mass. Every child is special and St. Michael Catholic School is committed to high academic standards that are grounded in our faith and the teachings and examples of Jesus Christ.
Thank you so much for your interest in St. Michael Catholic School and I invite you to learn more about our excellent spiritual and academic opportunities. Daily tours are offered and we are always available to answer questions and to provide information.
In Christ's service,
Jason Baynes, M.Ed.L., M.A.Ed